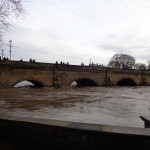 The impacts of the winter storms
June 15, 2016 1:05 pm
December 2015 was the wettest, warmest December since records began in 1910, with temperatures 4.1oC above the 1981-2010 average. Following the severe impacts of three successive storms, it's imperative for anyone looking to purchase either residential or commercial property to thoroughly assess flood risk ahead of purchase.
Storm Desmond hit at the beginning of December and was quickly followed by Storm Eva and Storm Frank. The most severe flooding occurred between the 25-27th December across Yorkshire, Lancashire and Greater Manchester and the estimated cost of these events is likely to be around £5bn-£5.8bn2.
In England and Wales approximately 2.8 million properties are at risk from surface water and a further 1.4 million at risk of river and coastal flooding, in addition to 185,000 commercial premises at risk.
Groundsure, in partnership with JBA Risk Management have analysed some of the worst hit areas. As can be seen below from the images, the areas that were affected correspond with those modelled to be at risk by flood specialists JBA.
How did these events occur?
The combination of heavy rainfall and saturated ground are likely contributors to the extreme flooding we saw last winter. Overland flow caused by surface water run-off would have led to many rivers and streams bursting their banks and inundating the surrounding towns and villages.
The effects:
Storm Desmond brought severe gales and localised flooding to many parts of North West England resulting in 5,200 homes flooding in Cumbria and Lancaster. Storm Eva, quickly followed by Frank,  causing flooding to parts of West Yorkshire and Lancashire flooding  9,000 properties and bringing the total number of flooded properties to around 16,000  – some of which may have been flooded multiple times.
The storms have impacted thousands of businesses; one council in the North West (Calderdale) estimated over 1,600 business premises were flooded. PwC (PricewaterhouseCoopers) have estimated that around 50% of claims will be from commercial businesses – traditionally these figures are between 10 and 30%.  This is due to floods hitting towns and cities, affecting more small- and medium-sized businesses4.
The average cost of flood damage is approximately £28,0003 –  almost 4 times higher than the cost of a fire. With business insurance policies typically only covering damage to premises and stock, independent and smaller businesses may struggle to get back on their feet. Extra premiums are required for trading losses; however, this is only when insurance covers flood risk, and is available. Excesses for a business in a low flood risk area can be between £100 and £250, rising to £2,500 for moderate risks, and up to £25,000 for areas with a history of flooding5.
From a residential perspective a flooded home is costly not only in terms of money and time, but also in terms of the emotional upheaval, ill health and the inconvenience. A flood can cause structural damage to a property, contamination and even reduce property values.  Previously, those living in high flood risk areas were subject to extortionate insurance premiums, and in some cases, insurance not being available. Groundsure has analysed the JBA Flood Index, and has identified that over 26% of properties in Lancaster would find obtaining insurance at an affordable price difficult to obtain. For Carlisle this is around 7% and for Leeds around 4%.
Jill Boulton, Director of JBA Risk Management said, "Home owners and buyers should always make themselves aware of any flood risk associated with a property but we also recommend caution. This winter, our flood maps matched very well with the badly affected areas, as the images show. However, Kendal was an exception. Further investigation revealed that the flooding was caused by a failed culvert system. Flood maps can't include unforeseen local conditions."
With the introduction of Flood Re, which launched at the beginning of April 2016, insurance companies registered with the scheme can provide insurance and maintain affordable pricing on their policies. Insurance companies will pass the flood risk of around 350,000 eligible home insurance policies to Flood Re. Insurers will be charged a premium for each policy which will be based on the property's council tax band with prices varying from £210 for tax band A to £1,200 for tax band H. Flood Re won't alter the way home insurance is currently purchased  and should provide homeowners with peace of mind that, even after a flood claim, insurance with affordable premiums and excesses should be available. However, houses built since 2009 are excluded from the scheme.
Source – Groundsure
Return to Newsfeed