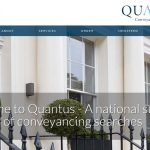 Thrilled to announce the launch of our new website
October 17, 2016 2:41 pm
We're thrilled to announce that the beginning of October saw the launch of our new website! Before we go into the features of the new website and why they are beneficial to you, we just wanted to say thanks to everyone who made this possible!
Order a search in under a minute!
With conveyancers dealing with anywhere between 50 and 150 transactions at any one time, we know how important your time is and how beneficial it is to find ways to make the process of a transaction as streamline as possible. That is why one of our main objectives was looking at how we could improve ordering searches for our clients and it is possible to easily order a search in less than a minute.
Giving you the choice
Some organisations only give conveyancers one option when ordering a search. We know that conveyancing firms are different and how one conveyancer would like to order isn't necessarily the case for another. We give conveyancers the choice, whether it's via the website, dropping us an email or picking up the phone. We're happy to fit in with whatever option is best for you!
Fresh, clean and modern feel
When coming up with the design, we wanted our website to have a fresh, clean and modern feel. We also focused on the customer experience, ensuring that users could easily navigate around the site and find what they were looking for.
Get social with us!
To make it as easy as possible for our customers to get in touch, we have a presence on all the major social media platforms including Facebook, Twitter and LinkedIn. On every page, clients will find links to these accounts, so that not only do they have other options to get in touch with one of the team but also to keep up to date with the latest industry news.
Quote from Landmark – one of our suppliers
"Many congratulations from all at Landmark on the launch of the new Quantus Legal website.  We're proud to have worked with the team at Quantus since the start of the business and to be supporting their continued growth.  Very good luck!  Steve Johnson, Account Director and all at Landmark."- Steve Johnson, Account Director
Check out the website for yourself
We would be very grateful for any feedback that we receive about the website, including the features that you like and what you think could be improved. Thank you in advance!
Return to Newsfeed