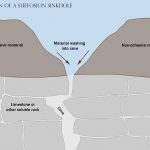 66ft-Wide Sink Hole Happens in Yorkshire
November 28, 2016 2:13 pm
The emergence of a 66ft (20m) sinkhole in Ripon, North Yorkshire earlier this month offers a stark and present reminder of the importance of undertaking ground stability due-diligence as part of the legal conveyancing process.
News reports published worrying photos of a huge hole that appeared in gardens, forcing seven homes to be evacuated.
Sinkholes are relatively common in Ripon and are usually caused by the dissolution of thick gypsum deposits beneath the area. This recent incident is close to where another sink hole opened up beneath a 100-year-old building in 2014.
Ground stability reports start at just £19.00 + VAT. To place an order please click here or e-mail orders@quantuslegal.co.uk.
For further information on ground stability reports, or any of the searches supplied by Quantus please e-mail enquiries@quantuslegal.co.uk, or call 01509 812953.
Return to Newsfeed