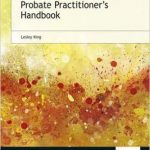 Landmark Financial Asset Searches Mentioned in the Law Society Probate Practitioner's Handbook
February 10, 2017 3:12 pm
The Landmark Financial Asset Search is specifically mentioned in the latest edition of the Law Society Probate Practitioner's Handbook 7th Edition.
In the section "Are professional advisors at risk of a penalty?" the Law Society Handbook advises solicitors that undiscovered assets are a negligence risk.  They go on to say "To limit risk of overlooking assets, it may be sensible to use a company search as Landmark's Financial Asset Search, which will carry out a search against the deceased name."
Landmark feel this acknowledgment confirms the value of the FAS product as a tool to help probate practitioners manage risk in regard of identifying the deceased's estate and its value for relatives and dependents.
To order a Landmark Financial Asset Search please click here then email your completed form along with documentation to enquiries@quantuslegal.co.uk
To view a sample report, please click here (can't be viewed in Chrome – please email for a sample report)
Return to Newsfeed