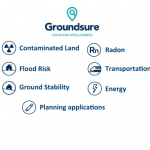 The New Groundsure Avista Report Launches 6th June 2017
May 31, 2017 3:09 pm
The new Groundsure Avista – an all in one environmental report – will be available to order through Quantus from Tuesday 6th June 2017.
The Groundsure Avista offers improved data for better decisions, clear explanations and consequences, and gives advice on your next step as a Conveyancer/Homebuyer.  It filters out the information you don't need and gives you the information that really matters.
Key Attributes:
Seven reports in one: Seven environmental searches, including planning.
Highest levels of accuracy and pass rates: For higher accuracy, 106 million data points, derived from Land Registry polygon data, are used to produce each Avista report.  
Provides the data that matters:with an average Avista report being 20 pages long, conveyancers can see the bigger picture in an instant and are able to speed up the property transaction process
Signposting next steps and offers solutions:The Avista report offers next step strategies to keep the conveyancing process moving smoothly. The Avista Action Alert will highlight any recommended next steps and score out of 5 the potential to delay the transaction process.
The Groundure Avista report can be purchased for £94.80 inclusive of VAT for properties up to 5 hectares.  For larger properties a price is available on request.
For a sample report click here
Return to Newsfeed