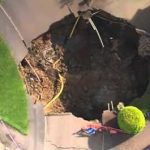 The New Homecheck Mining & Subsidence Report
August 25, 2017 1:09 pm

Ground stability and subsidence issues have been a home-buyer's concern for years.  Recently the 3m wide by 3.65m deep sinkhole that occurred in Wednesbury this month made national headlines.  For Guardian report click here.  Sinkholes, raised fracking concerns and the mining legacy can create anxiety for the home-buyer. How can you give your client peace of mind when ground stability and subsidence have been raised as risks associated with their potential purchase?
The Homecheck Mining & Subsidence Report is a Residential report, designed to highlight any potential mining and subsidence hazards at the property.  The presence of a hazard could mean that the property is at risk of structural damage from subsidence or heave.  Subsidence can cause extensive damage to the property and repairs can be costly.
Various parts of the country are more susceptible to some hazards than others. It depends on the man-made and natural circumstances within the environment.  Subsidence is the downward movement of ground and heave is the upward movement of ground.  They can both be caused by man-made factors (e.g mining and infilled ground) and natural factors (e.g. landslides and sink holes). The Homecheck Mining & Subsidence report covers a wide range of hazards from man-made and natural sources and, uniquely, provides information on real cases insurance claims from subsidence.
Sections Include
Ground Stability – The main types of mining and subsidence hazards affecting the property e.g. former mining, former brine extraction and salt mining, landfill/ infilled land, and natural ground instability hazards.
Insurance Claims – Successful insurance claims in the property postcode are identified, providing evidence that local subsidence hazards exist. Claims made to the Coal Authority associated with suspected damage to property from coal mining.
 Recommendations and Next Steps – advice on further investigation methods if required. All of this is written so that it can be copied into client reports.
Follow on Services – Expert advice available from the Landmark Customer Service Team
Homecheck Mining & Subsidence Report £22 inc VAT
Same day turnaround
The Quantus Team are professional, knowledgeable and conscientious.  We assess all  orders manually,  identifying the property's correct location and will assess the risks affecting it.  No plotting involved, simply send in the address and a plan.
Ordering through Quantus gives you peace of mind that the search you request is necessary for your property – We only order the searches you need.
Return to Newsfeed