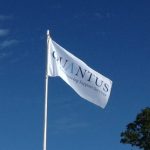 A Great Day Out at Burghley
September 8, 2017 1:16 pm
On Thursday 31st August, Quantus, along with The Coal Authority, Landmark and PlanVal enjoyed a great day out with some of our clients at The Land Rover Burghley Horse Trials.
The day started off, in the pavilion, with a complimentary breakfast of bacon and sausage rolls. After this, the food and drink did not stop coming; Pimms reception, 3 course meal, afternoon tea and last but not least the free bar.  At lunch the three times Olympian Gold Medal winner Matt Ryan kept everyone entertained with anecdotes about eventing.
Everyone enjoyed complimentary seats in the main arena to watch the dressage. The shopping facilities were amazing, selling everything from cupcakes to Range Rovers.  Even a diamante riding crop was purchased by one member of our group.  Some people were there for the shopping, others were there for the dressage. A few found the beautiful surroundings of Burghley House and it's grounds to be all they needed to relax and unwind for the day.
The sun shone down on the Quantus flag all day long – we will try to book the same weather for our next summer outing.
We would like to thank our sponsors for supporting the event and say a massive thank you to those that attended.  Without you, it would not happen.
Return to Newsfeed