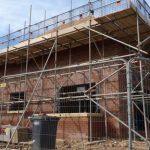 Let our experienced team manage New Build properties on your behalf
December 10, 2018 12:47 pm
We understand that ordering searches against New Build properties can often be a bit of a hassle and in a busy office it's time you just don't have.
Why not let our experienced search team help make things quicker and easier?
Our friendly and knowledgable team provide search ordering services to both Commercial and Residential clients. Taking your basic instructions, the team will accurately locate and map the property on our platform, order the required searches and liaise with data providers on your behalf. All this ensures you get the right searches for the matter in hand, saving you time and potentially your client money!
Key Features
Save time by sending a basic instruction
Property accurately located a plotted by an experienced member of the Quantus team
Advice and guidence offered ensuring you get the right searches
Improved turnaround times
Results returned directly to you
Here at Quantus we are passionate about providing a first class service.Whether it's informing you of the recommended products for a particular property, letting you know if there's a cheaper alternative, or just keeping you informed of a particular matters progress, we don't think you can get better.
"certainly the best search provider I have come across in my 37 years in this business"
For futher information please click here or telephone 01509 812953
Return to Newsfeed