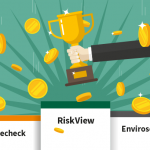 Market Leading Remediation Contribution of up to £250k!
October 1, 2019 9:13 am
Landmark Information Group has increased its remediation contribution across three of their core reports, making it easier for a transaction to proceed when Further Action advice is provided which, in the past, could have caused the transaction to stop or be cancelled entirely.
Homecheck Professional from £60,000 to £100,000
Envirosearch Residential from £100,000 to £150,000
RiskView Residential from £100,000 to £250,000
This will apply to remediation costs incurred after being served with a notice by the statutory authorities when the property is declared under Part 2A of the Environmental Protection Act. This applies regardless of the outcome of the risk assessment provided on the site, including where they've identified that there may be a risk of contamination under Part 2A. Landmark Information Group will protect homeowners where serious contamination may be an issue in the future, providing long term peace of mind.
For further information and/or sample reports please contect a memeber of the Quantus team by calling 01509 812953, emailing enquiries@quantuslegal.co.uk or going to our contact page
Return to Newsfeed