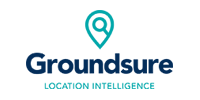 Groundsure
Groundsure are a UK authority on environmental risks including land contamination, flooding and ground stability. They provide high value, property-specific opinions, and analysis of land use based on the leading datasets that they collect and curate.
Groundsure help a range of individuals and businesses make fully informed property transaction decisions including:
Solicitors

Homebuyers

Businesses

Environmental Consultants

Surveyors

Architects

Lenders
To ensure they deliver the most up to date environmental data they have partnered with leading data, mapping and technology providers including the Environment Agency, Ordnance Survey, the British Geological Survey and JBA.
Groundsure are part of the Ascential Group, a collection of data and intelligence businesses delivering unparalleled insight in their respective industries.
What is Location Intelligence?
It's not just the sum total of Groundsure's complete product/service offer, from environmental search, data, mapping and reports. It's also the more intangible (but equally valuable) aspects of their customer offer – the opinions, insights, shared expertise, and guidance that demonstrate our thought leadership.
Delivering industry best practice
Groundsure believe in following solid and honest business principles and industry best practice. They are committed to delivering market-leading products and customer excellence. They deliver this by following stringent operational processes for every aspect of their business, whether that's their Data Governance Council or their Senior Management Boards through to delivering Customer Excellence every day. Groundsure believe that being independently reviewed helps them to ensure they meet and exceed best practice guidelines and adhere to compliance regulations.
For further information please call 01509 812953 or click here